A brand-independent diagnostic device, which can be used in a wide range, what makes possible to test personal and commercial vehicles, trucks above 3,5T and trailers, for both small and big workshops.


It has a great value for workshops repairing both kind of vehicles.

The DELPHI diagnostic system can be installed to a PC or a notebook too.
What does the DELPHI vehicle diagnostics know?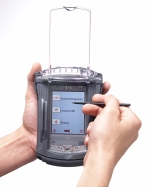 It
can diagnose
every
personal and commercial vehicles
on-board electronic system, which has been
made between 1984 to 2010
. That means nearly
50 brands and 730 types
.
  You
can test - more than 27 000 - controlling systems
including trukcs.
It creates a
wireless Bluetooth
connection through an interface with the examined vehicle in order to provide an easier way to work with for the users. You can check the vehicles
electronic system
and you can
make a database
from it with the help of this device.
You can update it via the internet so that the customers have less troubles with the device.

It provides graphs, technical, service, etc data for an efficient working enviornment.
It has several language included in it so it gives you the possibility to change to English, German, Romanian, Hungarian, Czech, etc, during a test, as you wish.
What can be DELPHI used for?

You can read or delete fault codes, see live data, activate sparepart, calibrate, etc... with different electronics.
engine control (ECU)
ABS
SRS airbag
air conditioning
transmission
instrument units
immobilizer systems
OBD communications
EOBD communications
repair warning system

Download our prospectus on Delphi vehicle diagnostics in a pdf format through the following link.
Download the Delphi vehicle diagnostics prospectus.
Download the Delphi vehicle diagnostics software prospectus through the following link.

Download the Delphi vehicle diagnostics software pospectus.

Delphi diagnostic softwares functions.


 

lamps to default position

 

Settings

ECU
coding
ABS
 
 
 
 
 
 
Airbag
 
 
 
 
 
 
Instruments
 
 
 
 
 
 
Immobilizer
 
 
 
 
 
 
Transmission
 
 
 
 
 
 
Air conditioning
 
 
 
 
 
 
Comfort systems

 
 
 
 
 
 
Engine control
 
 
 
 
 
 
EOBD
 
 
 
 
 
 
       
Max version